April  greetings for this months edition of Herbs, Healing and Health.
As we are moving into spring properly now, the free herbal pharmacy that is at our disposal in our hedgerows, lanes and countryside, is really starting to manifest itself.
In last months newsletter I talked about a new plant that I had met since moving to Dorset, Three cornered leek. This months plant is much more familiar to all of us. Wherever you go in this country, you wont have much trouble locating a stand of nettle. I am always particularly aware of nettle at this time of year and I will be talking a lot more about this hugely useful plant at the weekend, in the spring tonic workshop, but for now, I would just like to make mention of it as we are moving into the time when it is optimal to harvest lovely nettles.
Nifty Nettles
Spring is the best time to harvest nettle tops, and if you are clever and cut them back repeatedly,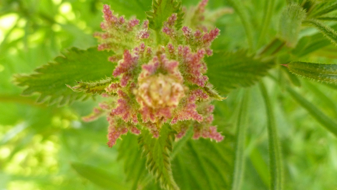 they will send up fresh shoots all the time, so you may continue happily harvesting through the summer and into autumn. This will give you an ongoing supply of a nutritious and delicious food source, rich in vitamins and minerals.
Nettle is a good example of a herb with depurient qualities. This word is less used today, and denotes a substance with cleansing and purifying qualities, specifically with respect to the blood. This makes it ideal as a component of spring tonics, and indeed it is a tonic in its own right, providing as it does, both medicinal and nourishing properties. As with so many things though, these properties are not mutually exclusive, the division between food and medicine being an artificial one, as any good nutritionist will tell you.
I am always very keen at this time of year to encourage as many people as possible to take advantage of the freely available feast of nettles outside their doorsteps, so with this in mind, here's a quick recipe:
Herb Pudding
In a muslin bag place, alternative layers of wild greens (ie nettle tops, sorrel, wild garlic) and a cereal (ie oatmeal, barley or rice). Season between the layers with salt and pepper. Tie up and boil for half an hour until the cereal/rice has cooked.
Turn out onto a bed of hard-boiled eggs. [1]
Taken from A Hedgerow Cookbook, by Glennie Kindred.
One of my preferred methods of eating nettles is to make a filo pastry dish using nettle tops, spinach, parsley or any lovely green herb, mixed with goats cheese and pine nuts. Scrummy for a lunchtime treat or as part of a picnic.
Anti-inflammatory Chamomile
With the hay fever season looming large now, I have already been busy making hay fever teas for some of my patients who want to build their defenses early.
Many people associate chamomile with relaxation and sleep, but it is also a plant which I have used regularly in the past in hay fever tea blends. Its anti-inflammatory properties lend themselves well to hay fever, and a cold compress of chamomile tea (or indeed a cold tea bag) held over red, sore eyes can help significantly.
Browsing through one of my research Journals recently I came upon a paper investigating the effects of chamomile (Matricaria chamomilla) on aphthous ulcers (mouth ulcers). This piece of research compared the effectiveness of chamomile with that of triamcinolone, a long acting synthetic corticosteroid. Results showed that chamomile did not resolve symptoms as quickly as the corticosteroid, but was effective at reducing pain intensity and patient satisfaction was similar to triamcinolone. In a similar study quoted by the same paper 97% of patients judged the tolerance and safety of chamomile extract to be excellent. [2]
It is a herb I have often recommended that people use as a steam inhalation for sinusitis, as the soothing, anti-inflammatory properties are helpful where mucous membranes are inflamed and essential oils such as tea tree are too harsh. Therefore I was very pleased to come across this wee article. The next time you have a mouth ulcer consider swilling regularly with a really strong cup of chamomile tea. Soothing to the nervous system and soothing to inflamed tissues chamomile is a really great addition to the medicine chest.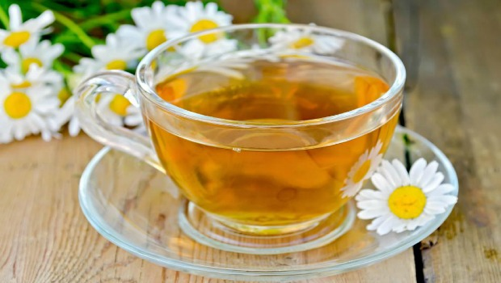 Mary
Bibliography/Reference
Kindred and Glennie, A Hedgerow Cookbook. 2005, Somerset: Wooden Books.
Tadbir, A.A., et al., The effect of  Matricaria chamomilla (chamomile) extract in Orabase on minor aphthous stomatitis, a randomized clinical trial. Journal of Herbal Medicine, 2015. 5(2): p. 71 – 76.