May day blessings to you all with this months edition of Herbs, Healing and Health.
It would feel very remiss of me to begin this newsletter without a mention of the most iconic plant of this month, the hawthorn or May blossom. It has been great to see May blossom actually out on May day. Having lived up near Newcastle for many years, this has not always been the case, so I have been feeling full of full of the joys of Beltane recently. (Hurrah).
To mark the fact that we are well and truly in the thick of spring now, I thought you would appreciate a few titbits of information about Mayflower.
In England solitary hawthorns often marked meeting places, moots or manorial courts.
To bring May blossom into the house is considered very unlucky, except under very specific circumstances. [2]
There are two native species of Hawthorn, Crataegus laevigata (Midland hawthorn) and Cratategus oxyacanthoides. They may be used interchangeably.
The use of Hawthorn in the treatment of cardiovascular complaints is relatively recent, beginning with Dr Green of County Clare, Ireland, who used it as a 'secret ingredient' for his treatment of congestive heart failue.
In Ireland lone hawthorns were regarded as fairy trysting places and were thought to be particularly dangerous on May day. [3]
Perhaps I should have mentioned that last one before the first of May! If anyone you know has gone missing in the last few days do make sure that they didn't make the mistake of sitting under a lone hawthorn on May day. They may just have been whisked away by the fairies.
Hawthorn is one of the plants that I like to go out and pick for myself and turn into tincture for my patients use. Remedy making on this level helps to retain the strong relationship with the plant world that is so important to my practice and allows some of natures healing to flow directly into the remedy in a very immediate way.
This is a remedy that is still very much the subject of current research, [4] which is still verifying valuable antioxidant and anti-inflammatory actions of the plant.
Valuable Violets
My last foray up onto the cliffs West of West Bay revealed communities of dog violets putting their heads up to greet the impending summer. The violet family includes violets and pansies two similar but distinct groups. I always find violets a heartwarming sight, and of course we have an indigenous pansy called heartsease, which is reputed to help heal the pain of heartache. This little flower always makes me smile as it is a plant which Nicholas Culpepper used as a reason to have a quick rant at the medical profession of his day, stating in Culpeppers British Herbal.
'This is that herb, which such physicians as are licensed to blaspheme by authority, without danger of having their tongues burned through with a hot iron, call an herb of Trinity.' [1]
An excellent example of a book not impeded by the need to be a dry, sterile, impersonal text, but one containing echoes of the real person who wrote it. I suspect Mr Culpepper had a belligerent side to his nature, which may be reflected in the fact that he fought in the English civil war and suffered a chest injury from which he never fully recovered.
Here we have some lovely domestic medicine involving heartsease, which my very good friend and colleague Anita Ralph has been generous enough to pass on: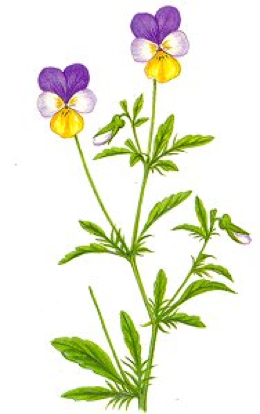 Plant some Heartsease seeds in some organic compost. Keep watered and sheltered outside until flowering.
Pick off the flowerheads carefully allowing the plant to produce more flowers.
To about 20 flowerheads, pour over 50ml of boiling water to make a 'tea' or tisane and allow to steep for 10 minutes. This usually produces a brilliant green tea.
Once cooled strain and use with cotton wool pads as an eye compress, or add an equal amount of Aloe Vera gel, and pour into a bath.
Soothes irritated, sore, dry skin. Can be used as a scalp lotion for babies.
The cooled strained tea will keep in the fridge for the following day, but then you will need to make a fresh batch.
Thank you Anita
The violet is the symbol of the city of Athens, and as well as being associated with love tokens, the scent of parma violets was thought to be an effective hose charm, with the ability to calm refractory horses. [3]
Well, that's all for this month. Have a fabulous May.
Mary
Bibliography/Reference
Culpepper, N., The British Herbal and Family Physician. 1816: Halifax.
Vickery, R., A Dictionary of Plant Lore. 1995, Ocford: Ocford University Press.
Baker, M., Discovering the Folklore of Plants. 1996, Princes Risborough: Shire Publications.
D, W., et al., Physicochemical, antioxidant, and anti-inflammatory properties and stability of hawthorn (Crataegus monogyna Jacq.) procyanidins microcapsules with inulin and maltodextrin. Journal of the Science of Food and Agriculture, 2016.