In this edition:
Ramsons & Wild Garlic Soup.
A joyous spring welcome to this edition of Herbs, Healing and Health.
A big thank you to all who took part in the Spring Remedies workshop. One of the stars for me (apart from the attendees) was the ramsons, which make, amongst other things, a most delicious pesto for use with pasta and pizza etc. There is evidence to suggest that ramsons have been used as food and medicine since Mesolithic times (around 10,000 to 5000 BC) and in Europe they have traditionally been used for their anti-bacterial properties, as a digestive stimulant, to help prevent cardiovascular disease, and for purposes of detoxification, which makes their consumption perfect in spring, when we are hopefully all engaged in spring cleaning our bodies after the long sedentary winter months. Modern research absolutely backs up all of these traditional uses, but I will not go into detail here as sadly much of it involves poor old Sprague Dawley rats and the like.

This plant is so popular in Germany that in Eberbach they have an annual festival devoted to it.
For more information check out :http://www.eberbach.de/pb/,Lde/1392127.html
I love the idea of a plant having its own festival! Perhaps we should all vote on the plant that Bridport could have a festival for as well!
You can use Google translate to get an English version of this website.
The second word in ramsons Latin binomial, ursinum, refers to the belief that, when brown bears come out of hibernation at the end of winter they will seek out and eat ramsons as a means of detoxifying themselves.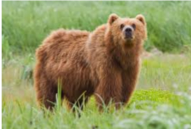 Apparently they are  particularly fond of the bulbs. Thus the plant is also known as Bears leek or Bears garlic.
If you haven't done so yet, do go out and harvest ramsons while you still can. They are amazingly beneficial to health on all sorts of levels. One word about harvesting though – oh alright two words!
Only pick what you need and make sure you are leaving plenty of healthy plants behind. Responsible harvesting is paramount to ensure future supplies and also to preserve ecosystems and leave plenty for other creatures who may depend upon this plant as well.
Make sure you know what you are harvesting! Ramsons are pretty easy to recognize. If nothing else the distinctive garlicky smell does tend to give them away. There have been a few isolated reports of people poisoning themselves by harvesting crocuses, Lilly of the Valley or Lords and Ladies by mistake. This highlights the importance of knowing your plants. For me specifically it highlights the importance of getting out there more and interacting with the world around us so we are less likely to make these elementary mistakes. If you are in doubt wait for the flowers. The beautiful white flowers of the plant are very distinctive and also possess a garlicky aroma. They can be added to salads etc to add interest and visual loveliness to your food. But really the garlicky smell of the leaves makes them hard to mistake for anything else.
Research has also highlighted in recent times a cholesterol lowering effect from ramsons. So, in the interests of promoting good health and long life amongst you all, here is a lovely recipe to support your cardiovascular system, provide good food for you lovely gut floras and generally make you feel good.
Simple Ramson Recipes
This recipe for wild garlic soup also contains detoxifying and nutritious nettle, so eat with joy in your heart!
Wild Garlic Soup
A large bunch of ramson leaf (around 200g)
100g stinging nettles
2 large potatoes
knob of butter
300ml water
stock cubes/powder to taste
bay leaf
yoghurt/cream
Wash the ramsons and nettles.
Cut ramson stems into 1cm pieces and roughly chop the leaf.
Chop the potatoes into cubes and fry in the butter until soft, along with the ramson stems and bay leaf.
Add the nettles, water and stock and cook for a few minutes until the nettles are soft.
Add the ramson leaf. Depending on how strong you like the flavour to be you can take it off the heat straight away, or continue to cook for a few minutes. The longer you cook ramsons the less they taste of garlic.
Blend and serve.
Recipe taken from:
https://foragewildfood.com/2012/04/28/wild-garlic-soup/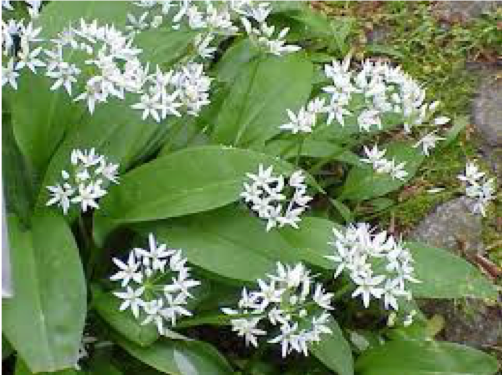 https://upload.wikimedia.org/wikipedia/commons/thumb/8/8b/Allium_ursinum0.jpg/220px-Allium_ursinum0.jpg
If this seems a wee bit of an effort, I have actually seen wild garlic soup on the menu at Rachels in West Bay. Maybe you could check that out!
Mary
References 
Phytochem Rev. 2015; 14(1): 81–97.
Published online 2013 Dec 25. doi:  10.1007/s11101-013-9334-0
PMCID: PMC4352197PMID: 25774103
Allium ursinum: botanical, phytochemical and pharmacological overview
Danuta Sobolewska, Irma Podolak, and Justyna Makowska-Wąs
Practice Details
Bridport Complementary Health, 54 South Street, Bridport. DT6 3NN
Tuesday afternoon/evening.
To Book a ConsultationTel 01308 281294 or email mary@tassell.net